1 days payment will be taken at time of booking with the balance payable on arrival. All payments will be contactless.
Guest contact Information required will be Name and contact telephone number. If no phone number then a postal address or email address can be given.
Please see conditions of hire on website 'booking and tariff' section for further guest advice.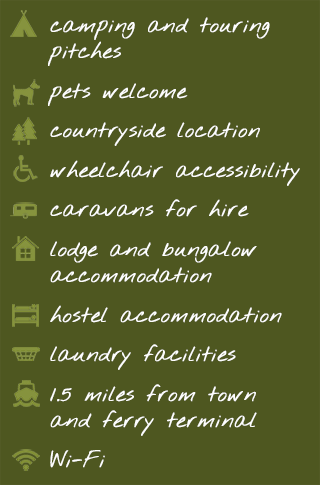 Laxdale holiday park is a small family run park set in peaceful tree lined surroundings. We provide first rate facilities for Campers, Touring caravans, Motor vans and Self Catering holiday makers. Facilities are modern but the park retains the traditional friendly atmosphere that is typical of the Islands. Located 1.5 miles from the town of Stornoway the park is an ideal centre from which to tour the islands of Lewis and Harris.
Accommodation
Touring and Camping
Wireless Internet (WiFi) is available throughout the park. A heated modern amenities block provides dish washing sinks, laundry facilities, toilets, free showers, wash hand basins and facilities for wheelchair users. There are also water standpipes, chemical toilet disposal and waste water disposal points.