For the safety of visitors, staff and the local community…

No shared or communal facilities will be open.
Only units with self contained hygiene facilities will be accepted.
Awnings/Gazebos, strictly by arrangement. They must not extend more than 3m from unit.
At this stage we will not be accepting tents although tents with self contained chemical toilet/hygeine facilities may be accepted by arrangement.
Fresh water, waste water and chemical toilet disposal and refuse bin facilities will be available.
Wigwams with dedicated facilities will be available (2 night minimum booking). Our bunkhouse will remain closed.
Children must remain within pitch area unless accompanied by an adult.
Full payment will be taken at time of booking. All further payments will be contactless.
Providing full booking details and advance payment should mean you do not need to enter reception on arrival.
We have made this decision to support the local economy and protect our local environment by providing safe parking and waste disposal facilities.
These restrictions are subject to change in accordance with further guidance from the Scottish Government and local authority.
COVID 19 information for visitors to the Outer Hebrides. Click on link. https://outerhebridestourism.us6.list-manage.com/track/click?u=ba6d9d8977a2819bf7948a886&id=9f0832c61d&e=cd7c99b228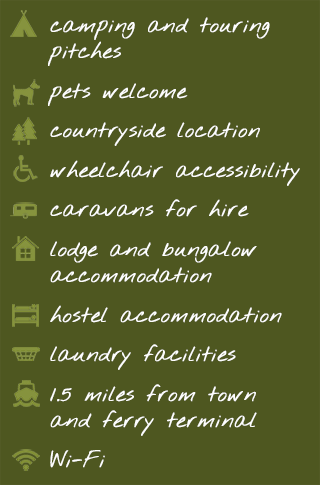 Laxdale holiday park is a small family run park set in peaceful tree lined surroundings. We provide first rate facilities for Campers, Touring caravans, Motor vans and Self Catering holiday makers. Facilities are modern but the park retains the traditional friendly atmosphere that is typical of the Islands. Located 1.5 miles from the town of Stornoway the park is an ideal centre from which to tour the islands of Lewis and Harris.
Accommodation
Touring and Camping
Wireless Internet (WiFi) is available throughout the park. A heated modern amenities block provides dish washing sinks, laundry facilities, toilets, free showers, wash hand basins and facilities for wheelchair users. There are also water standpipes, chemical toilet disposal and waste water disposal points.